The Turkey Hill Experience
Mom and dad took Taylor, Mackenzie and I to the Turkey Hill ice-cream factory in Columbia, PA. The factory was 29 miles (46 kms) from our house in New Holland, PA. In front of the factory there was a cow 3 times my size. It was HUGE!!!!
We walked around the Turkey Hill factory and learnt about how ice cream was made and got to sample lots of ice cream and ice tea! That was one of the best things about the tour!
My favourite thing was when I got to make my own ice cream flavour. I chose to make cotton candy flavoured ice cream.
Making Ice Cream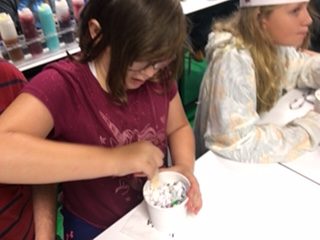 The first thing I did was add the cotton candy flavouring to my vanilla ice cream base. Next, I got to add 3 of my favourite candies. I chose mini peanut butter cups, gummy bears, and cotton candy bits. The last step was to add the flavour swirl. I chose caramel and cake icing. FINALLY, I got to eat my creation! YUMMY🙂
Unfortunately, I did not like my ice cream flavour:(:(:( Next time I make ice cream I would leave out the gummy bears. They were too hard because they were frozen!
Some Cool Facts
Turkey Hill's dairy farm milks 8,000 cows twice a day. Which provides them with 40,000 gallons of milk per day. That is about 10 milk trucks or approximately 640 000 glasses of milk a day! That's a lot of milk!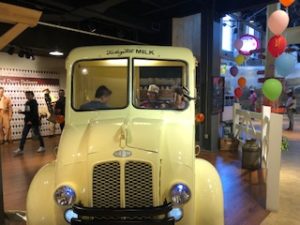 The factory produces about 26 million gallons of ice cream per year. It churns out 47 to 50 cartons of ice cream per minute.
The main four ingredients in Turkey Hill ice cream are milk, sugar, cream and flavouring.
They make about 72 different flavours!
Our Commercials
Here are more of photos.