Choosing the Right Vehicle For Our Trip
The trip vehicle we chose is a 2013 Ford F-150 XLT SuperCrew. It's equipped with the 5 litre V8 engine, 4-wheel drive, the 6 1/2 foot box with a lockable canopy, and the factory towing package. Also has an electrically locking rear differential with a 3.73 ratio.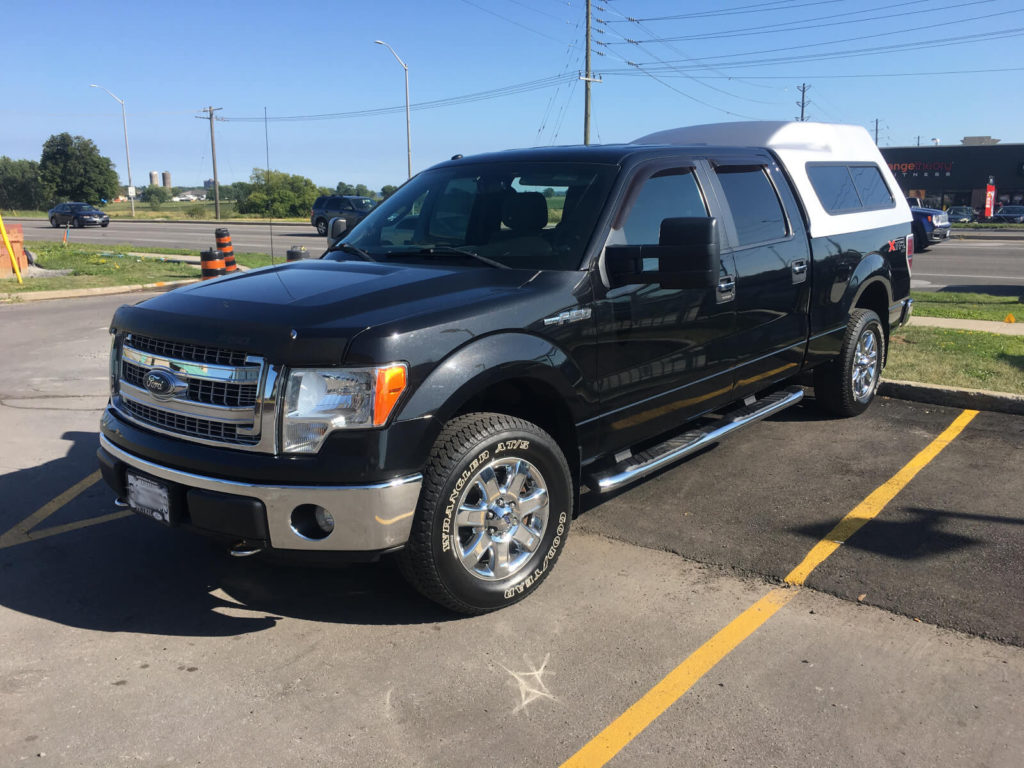 The Search
The initial plan for our trip was to hit the road in our existing minivan. We had a 2010 Dodge Grand Caravan with a 4 litre V6. In our opinion, this was one of the best vehicles to get for a family of five. Tons of space with those seats that fold down flat into the floor (so useful), electric sliding doors, and a DVD player with not one but two screens.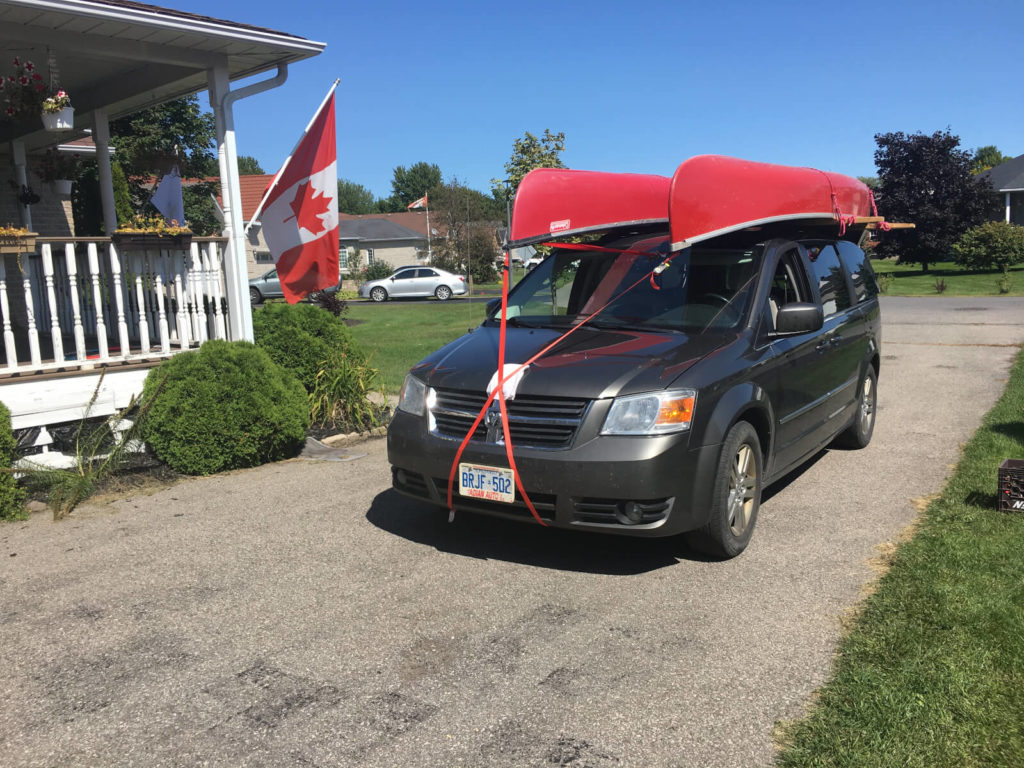 The trouble was it also had over 300,000 kms on the odometer and was starting to have some reliability problems. The van was paid off and we loved the idea of starting off our trip with as few bills as possible, but my dad had some concerns.
We figured we'd tough it out until the spring, at which point we would upgrade to something better. But with about 2 weeks to go before the start of the trip, we decided to pull the trigger and get something better now.
It Had To Check All The Right Boxes
Here was our list of requirements we needed in our new family people mover:
Room for 5 people to be comfortable
Bench seat in the front so we could bring a kid up front on longer trips
Storage! We need space for our ski and travel gear
4WD or AWD. We're heading to the mountains of British Columbia's interior for the winter, and later the rough roads of Central America
It has to tow. We want to leave the door open for a smallish travel trailer or cargo trailer in the future
Trailer brake controller. Would be nice, but not a deal-breaker
Reasonably priced. That means buying pre-owned around the 2013-2015 model years (no more than $25k total)
The only vehicles that met these requirements are full-sized SUVs and pickup trucks.
Full-sized SUVs?
Gina was leaning heavily toward a 4×4 Chevy Suburban, Ford Expedition Max, or a Chevy Express Passenger van with all-wheel drive. On the pre-owned market, reasonably priced Suburbans or Expeditions that aren't decked-out with a luxury package were pretty hard to find.
The Suburban and Expedition Max both seemed to have lots of space in the back for gear, but the 3rd row seat had a pretty high floor so whoever's in the backseat would have their knees crunched up for much of any drive. The Expedition wasn't much better.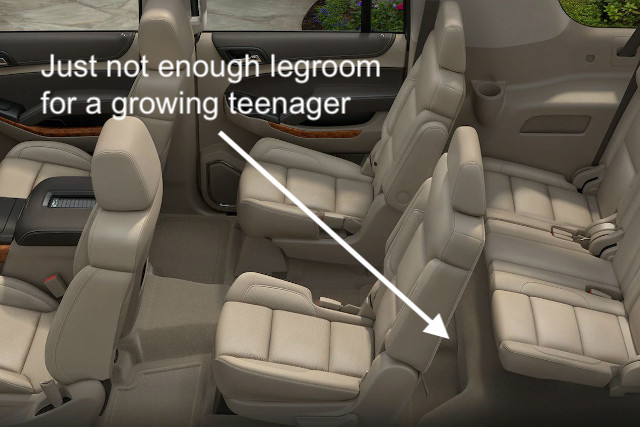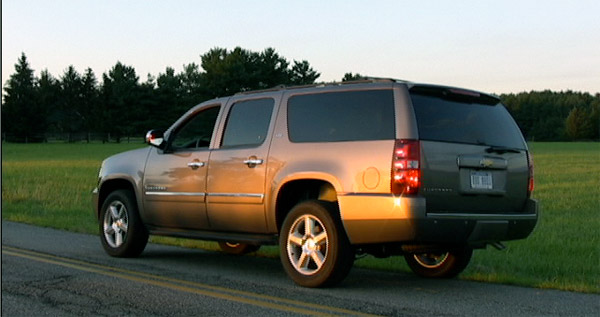 The Express Passenger van was looking really good.
It had power to tow, available AWD, and TONS of space. Trouble was we could only find pre-owned Express passenger vans through specialized dealers in the Toronto, Ontario area. We just didn't want to travel 4 hours to take a look at something we may not even buy, so we kept looking locally.
Pickup Trucks?
I kept dropping hints to Gina that we should look at pickups, but she was convinced any trip would turn into World War III if the kids had to share the backseat. Just try taking the whole crew on a 3-hour trip to the grand-parents house in a Mazda 3 and you'll know what I mean.
Despite her reservations, we went to take a look at a few.
After some research, I had decided that the only truck we should really focus on should be the Ford F-150 or F-250.
Why? Because it was the only truck that, for the 2013-2015 model years, came with:
Three proper spots on the backseat
A completely flat floor for rear passengers
Shift-on-the-fly 4×4 without an extra shifter the floor
The F-150 with SuperCrew had three spots in the backseat that were evenly spaced and had a nice flat floor, so anybody would be comfy no matter where they sat. The Dodge and Chevy's couldn't say that.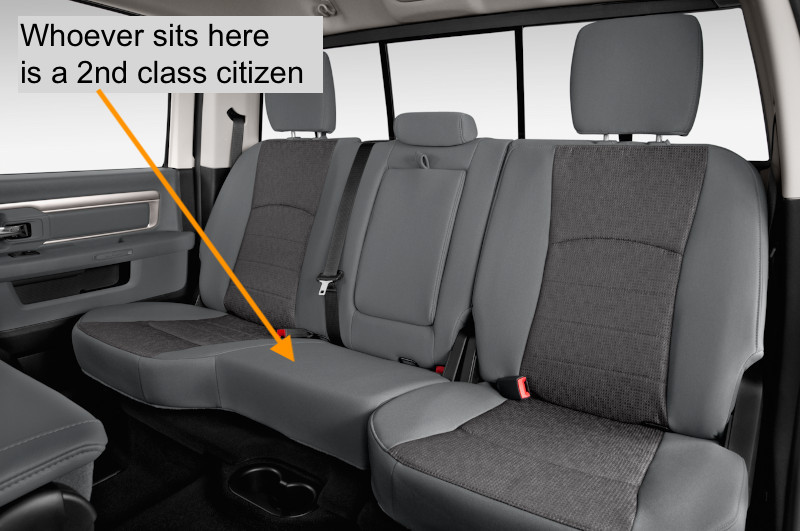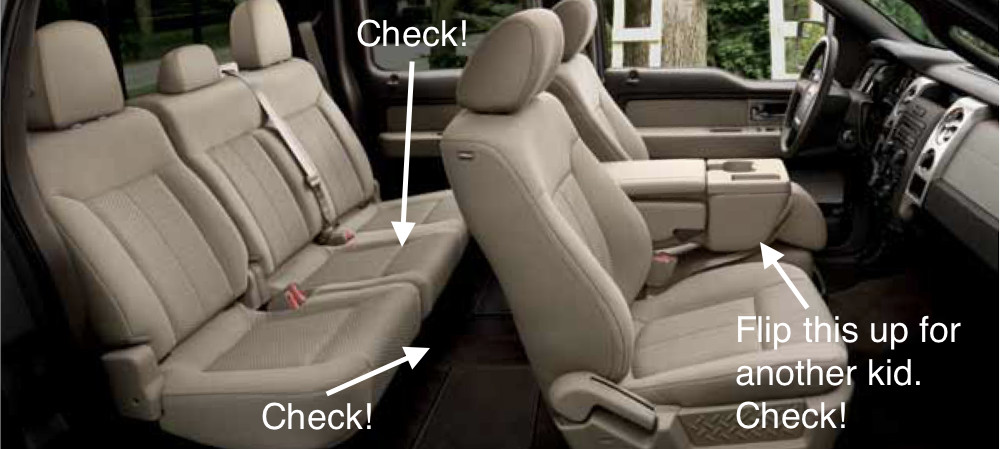 Gina and I were both really surprised with the crazy amount of kid space in the backseat of the F-150 SuperCrew. The middle-trim XLT also came with a bench seat up front with a large, fold-down console. Flip the console up, and you could put a kid there for a few hours when we started to smell a fight.
The F-150 also has a knob on the dash to engage the 4WD when necessary. I didn't want anyone to have to fiddle with a floor-mounted shifter if we needed to put the truck in 4WD.
A Win for the F-150!
After a couple test drives and a visit to a local mechanic, we went with the Ford. We felt it was the all-around best vehicle for what we wanted to do.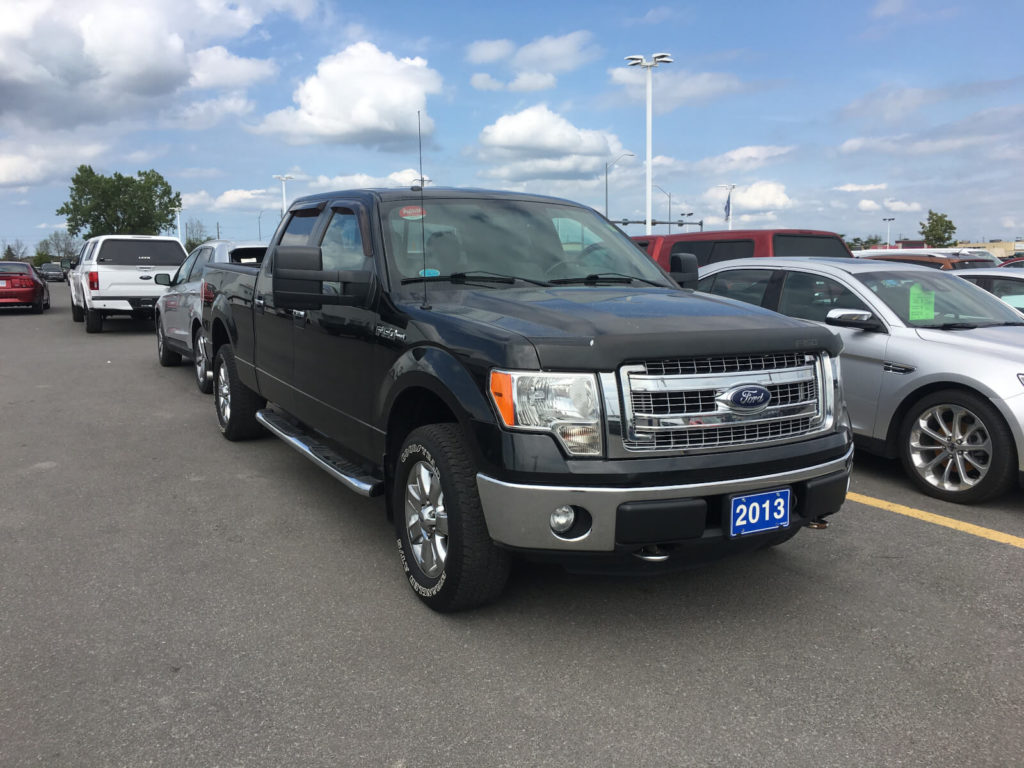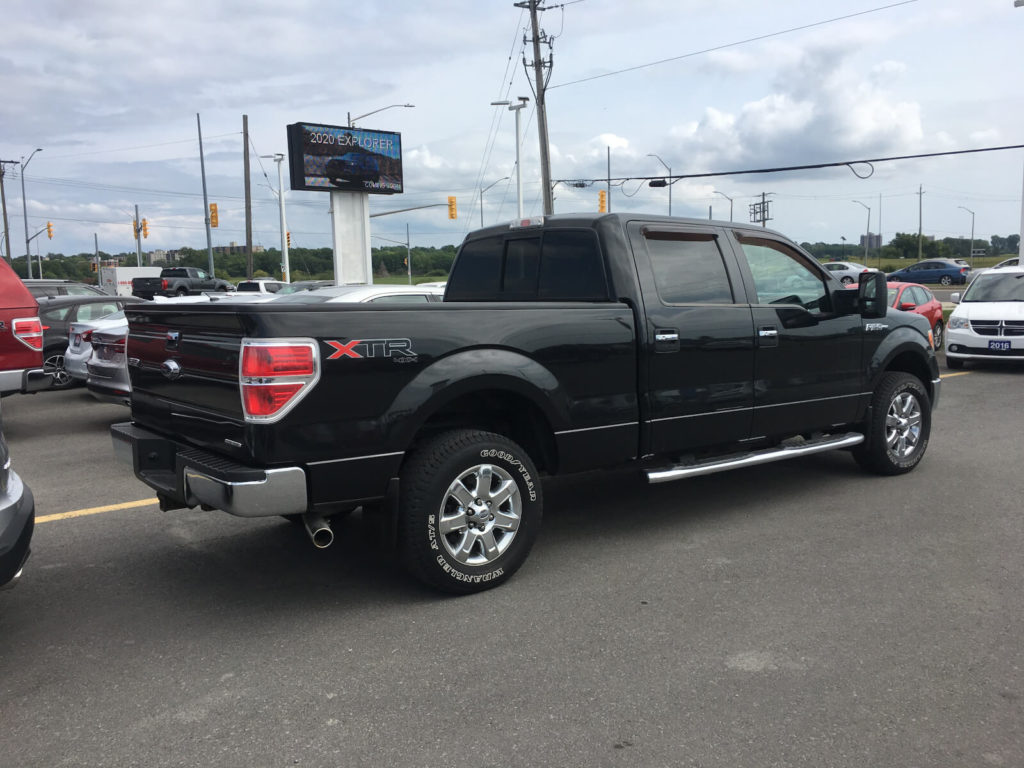 Now we just needed a way to lock away the gear we'll be carrying with us in the box.
The dealer made some calls but he couldn't find a used tonneau cover or truck canopy from the local shops. What he did have on his lot was another pre-owned F-150 with a similar body that had a cap on it. So we cut a deal: We'll take THIS truck, but with THAT canopy.
So after a little negotiation, we got a nice, extra-height truck cap installed.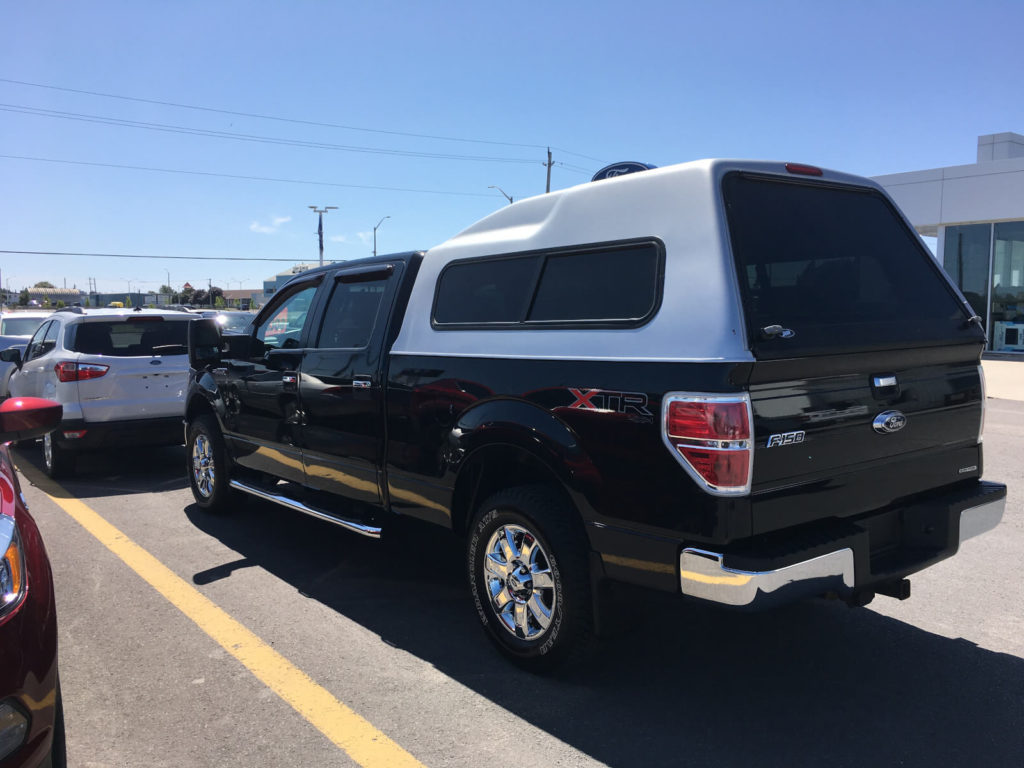 A note on that engine
For the past ten years or so, Ford has been selling engines marketed with the name EcoBoost. It's a turbo charger technology they've applied to some of their V6 engines. They claim V8 power wth the fuel economy of a V6.
We chose to avoid that engine in our vehicle for a couple reasons:
It was still reasonably new in the 2013 model year. This model year still had the first generation EcoBoost V6 and I wanted to avoid any issues that new engine was known for.

Servicing in Central and South America. Gina and I planned on heading into Mexico and Central America, and possibly into South America. If ever we needed some engine work while in those regions, I didn't want an engine that was loaded with unconventional stuff like twin turbos in a pickup. Was probably over thinking it on this one, but a conventional V8 sounded like the better option for us.